The Filmmaker George A. Romero
George A. Romero is American-Canadian filmmaker born in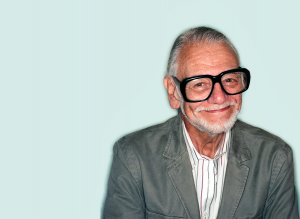 February 1940, also known as Godfather of the Dead. He is best known for his horror movies featuring zombie apocalypse like the famous Night of the Living Dead (1968), Dawn of the Dead (1978) and Day of the Dead (1985), and because of this famous series he is considered as a father of modern zombie movies.
Romero started his career after graduating from Carnegie
Mellon University in Pittsburgh in 1960. In his early years, he was shooting short videos and commercials. In the late 1960s with John A. Russo, he co-writes and directs one of the movies, which was a career breakthrough for the young Romero – Night of the Living Dead, which was the important moment for the modern horror films.
Some of the movies which came in the early 1970s were less popular; such are There's Always Vanilla (1971), Jack's Wife / Season of the Witch (1972) and The Crazies (1973). However, with the movies Martin (1977) and Dawn of the Dead (1978) Romero reclaimed the throne as one of the best horror makers. In his later years, Romero directed a fourth sequel to the Dead movies. Land of the Dead with actors Simon Baker, Dennis Hopper, Asia Argento, and John Leguizamo, was released in June 2005.
Over the past 58 years, Romero experimented with different forms of filmmaking but remained faithful to one particular genre – horror movies, and acknowledged zombies as the ultimate source of his inspiration. Romero was influenced by Edgar Allan Poe and Stephen King, which he presents in his movies Two Evil Eyes (1990) and The Dark Half (1993). However, remakes of his most famous movies did not offer the expected effects.
His personal life is rather a mystery, unlike the lives that celebrities lead nowadays. George A. Romero is a father of three, Andrew and Tina Romero from his second marriage with Christine Forrest. He also has a son Cameron Romero who is known as the producer of Origins and the director of Staunton Hill. George A. Romero now lives in Toronto, Canada.